This evening I was at the video store, and a roving reporter from our local Fox News affiliate made the critical error of asking me if I'd talk on camera about the snow for a "man on the street" kind of thing. So assuming I made the cut – and I think I did – the entire city will know about drinking cocoa to make it snow. Soon I'll have the entire nation drinking cocoa! Mwahahahaaaaa!!!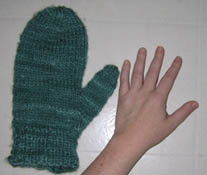 Yesterday when we were out in the snow, I couldn't find my gloves. The first thing that came to hand was this truly giant mitten. I believe this was the first mitten I ever knit. I have a history of knitting my first of any garment truly huge. Because it was huge, I didn't bother knitting the other one, but neither did I get around to unravelling the first one.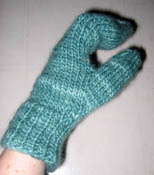 This may be a bust as a mitten, but it was a huge hit as… THE MITTEN MONSTER! RAARRR! This giant mitten now belongs to Emily. It comes out periodically and tries to eat people. I offered to put eyes on it, but apparently it's fine as it is. Well, not exactly fine – now she wants a middle-sized mitten and a small mitten so that it can be an entire mitten monster family. Heh. This was handpaintedyarn.com's "merino bulky" in mint, a colorway I don't think they offer anymore. I think I've still got some stashed away, so we'll see if we can create Bride and Son of Mitten Monster.
On the needles, a Berroco Jayne for the German Browncoat who sent us those care packages. Woo!