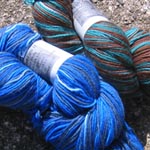 So on the way to St. Louis, I stopped off at Earth Guild in Asheville and Angel Hair Yarn in Nashville, which I've already posted about. However, I didn't post what I actually got at Angel Hair. This trip, I decided to go for locally dyed or spun yarns, things which wouldn't be available back home. To that end, I picked up two skeins of sock yarn. The blue is merino, the other is 75% wool, 25% nylon. It's by The Fiber Denn. Their site is under construction, but they seem to have an etsy shop. They're apparently local to Nashville, so that was good enough for me! Onward to St. Louis!
Through the community, I had heard that a manager of Knitorious also dyed roving. I definitely wanted to stop by, so Friday I followed what I thought was the map to their store, only to arrive at a residence clear on the other side of town. I had picked up the wrong directions. D'oh!
Take two: Saturday. I wasn't sure I'd go that day, since I really wanted to be at the GM roundtables at Simucon. I stayed at the seminar for a while, but there were so many people in the conference room all talking at once that the din was overwhelming. I had to concentrate and read lips to catch anything. Even then, I only caught about a third of what folks were saying, which made it hard to contribute in any substantial way. I finally realized that it was pointless and gave it up. There were plenty of other opportunities for players to snag their favorite GMs for less noisy conversation, so I don't feel bad about it. Maybe next year we can try two separate rooms – one for DR, and one for GS and everybody else. Or maybe it's just me, and I'm old. Heh.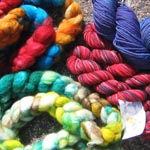 I arranged to be at Knitorious at the same time the manager was, and she sold me some roving. That's two bits of hers on the left – the green and the red/yellow/blue. She also has an etsy shop.
The red sock yarn is Claudia Handpainted. It's not local, but it's not something I can get in Charlotte, either. The blue is Dream In Color Yarn. I have no idea where they're located, but this was just too pretty to pass up. Plus it's machine washable, so, bonus!
I finally had to make myself stop shopping and go back to the hotel. About an hour later, I checked my e-mail and learned that I had missed a Jayne hat kit client by about five minutes at the yarn store! ARGH! So near and yet so far! I should have kept shopping! Jayne girl was picking up more yellow to make a second hat. Her husband blogged about it – the hats look great! She seemed so nice, I'm sorry we didn't get a chance to connect.
I'll have to post about the trip back another time. My daughter's at camp at the local Nature Museum, and I have to pick her up soon. In the meantime, there's scads of laundry, etc. to be done. That's the price you pay for vacationing!