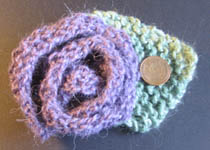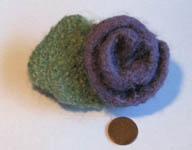 I'm a little too tired, busy, and tired to make a proper post. However, here's the alpaca rose, before and after felting. The leaf didn't felt down nearly as much as it did last time I made one. Maybe I cast on fewer stitches last time. Hm. I need to stitch the rose to the leaf more firmly, and attach a pin back.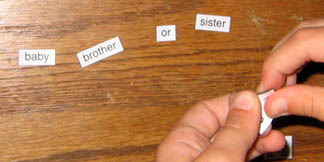 Emily is really putting the screws to me, sibling-wise. For the last two days, it's been nearly constant "I want a baby sister." Then she conceded that a baby brother was okay. I've been telling her that it's just not going to happen, so she got clever and said I could adopt one. She found a set of magnetic kid poetry words that we'd been hiding to dole out later. Note subliminal message. Nice try, kid.
I think she's just wanting someone to play with. Her camp this week only lasted four days, and was very chaotic and noisy, so it wasn't really a good way to make friends (not really her strong suit anyway). I'm going to call the mom of one of the other girl scouts and see if we can go get ice cream together or something. I also want to clean the house more so I'm more comfortable having people over. Not that I know whom we'd have over.
Just tired. And a little down. And hungry. Mostly tired. But there's an Office marathon tonight, so we'll watch that and maybe order take-out that we really shouldn't, try to get to bed at a reasonable hour, and then it'll all be better.