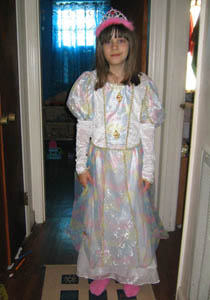 For those of you wondering how the costume went, I was all set to stitch up a bedraggled costume out of an adult-sized bridesmaid dress. Luckily, Mom saved me from having to do that, and probably also saved me from bursting a blood vessel from stress, by finding a store-bought costume big enough to fit Em. Thanks, Mom! The pretty princess is all set to go tonight!
Happy Halloween, everyone!
ETA: Halloween night update! Before trick-or-treating, we went up to her school's "Family Fun Night." I'd say three out of every five girls were dressed as princesses. She got a little candy, did "ghost bowling" (ghost outlines taped to empty milk jugs knocked down with a plastic ball) and bounced on a giant bouncy castle with attached inflatable slide.
As we were getting ready to leave, her best friends from her class came in. They were also dressed as princesses. They exclaimed, "EMILY! YOU LOOK SO PRETTY!!" and they rushed up to hug her. Man, that was gratifying. They were going into the cafeteria, so we encouraged Em to go in too. It worked out well. They all got cotton candy and sat together for a little while, but not too long, since Em was keen to trick-or-treat.
We went to about eight houses – a record for Em. She was doing her level best not to break into a run going up the sidewalk. She ate some candy and then we watched Charlie Brown and the Great Pumpkin. Now Em's completely worn out. She just this minute went to bed, and I predict she'll be asleep within five minutes.
"Halloween was so exciting! I hope I can do all these things again next year for Halloween!"