You may remember the pink felted bag I made, to which I had incorrectly affixed the handles. It was for a little girl named Brianna, and she had already seen the unfelted version, so I really did have to make another one correctly.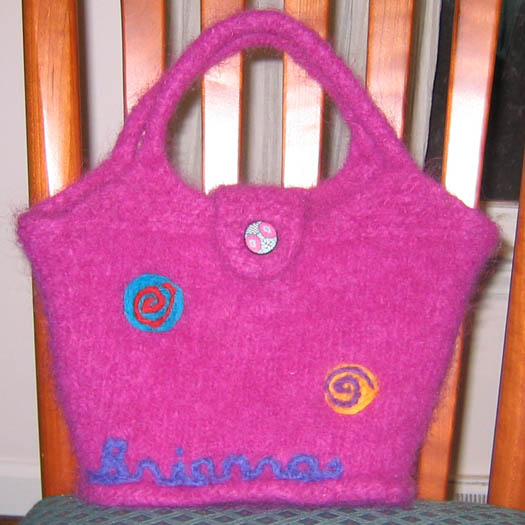 Well, it's finished!
She said she wanted her name, so I put that on there, and she wanted some flowers. Flowers didn't seem to look quite right with the name also on there, so needle-felted some spirally doo-dads instead.
This is the Fiber Trends "Flowers On-The-Go" tote. The pattern has been corrected since I made it the first time, but there's still an error in the closure flap. Frankly, three errors in one pattern doesn't inspire a lot of confidence in me to buy their other patterns, but I may give it a go. On the other hand, I feel like I've learned enough since I made the first one that I could probably wing it and make my own patterns. Here's hoping Brianna enjoys it. Her younger sister has already put in a request for a blue bag, but this one with a pocket on it! Whee!